Simplify operations and reduce operating costs
with Artificial Intelligence and Process Automation
through Robots (RPA)
Our mission is to reduce time and effort in manual processes, so that people can focus on the tasks that bring the most value to the company.

Optimization of the purchase process and invoices of accounts payable.

Automatic reconciliation of documents: orders, purchase orders, delivery notes.

Reduce costs and manual operations by up to 90%.
Immediate Benefits of Process Automation
Artificial Intelligence technologies and Automatic Process Robotization produce a transformative impact on any organization, allowing scalability and adaptability to changes and new challenges in the markets at a speed not known until now.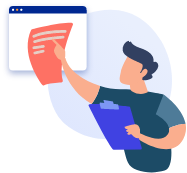 Increase revenue, improve profitability and reduce your costs.
The OrbitaCloud.ai solution is ready to work from the first minute, facilitating its implementation, with a very fast and easy learning curve for all employees of the Organization.
Speed up tedious work and automate repetitive tasks so you can focus on high-impact projects.
Improving Customer and Employee Experience
The elimination of manual tasks and the speed associated with automatic processes allow a better experience at all levels, which results in greater satisfaction with companies and their services.
Increased Process Quality Safety
Through business rules and validation criteria, the quality of results is ensured through the use of technology.
Automatic dashboards, reports and alerts
Once all the data is structured and has been processed, the exploitation of it to generate knowledge and insights that allow decision making quickly and safely.
Multi-ERP integration and other applications
OrbitaCloud.ai has an ecosystem of APIs that allow it to integrate with any other application automatically, fully adapting to the requirements of our customers.
If you want to know how we can help you with the digitization of documents, talk to one of our specialists.